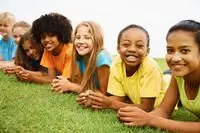 Play Therapy

My office is loaded with toys, games and creative tools! Play is a great way to connect, learn, communicate and grow. As a Registered Play Therapist, I understand the value of connecting with children in the way that best meets their needs. Children often do not have words for their feelings or concerns, but can be reached through play, music, bibliotherapy, art, sandtray or games. I also work with parents to help equip them to connect with their children which creates a more comprehensive approach. Play therapy has been shown to effectively reach and meet the needs of children. They communicate through play and must be approached and understood from their unique developmental perspective; it is their symbolic language of self-expression (Landreth, 2002, Play Therapy, The Art of Relationship .) Using metaphors to enter their worlds can make significant changes in development and mental health.
Creative components of play therapy have also been demonstrated to be highly effective with teens and adults when processing trauma and their emotions. I believe that our creativity allows us to see aspects of ourselves that we might not recognize. Research shows that music, art, and play stimulate both sides of our brains and can be very beneficial in helping us move forward to meet our counseling goals.
Often, tweaking our parenting techniques makes a real difference in how children respond in life. I always meet with parents before meeting with a child to get a thorough history and sense of the problem. I provide assistance to parents, which can lessen treatment time with children, as the parent/child relationship is significant in how well children function.